The Report Settings dialog box lets you save a report so that it can be run at a later time with the current set of options. Once you have saved a report, it is displayed in the Saved & Scheduled page of the Manage reports screen and in the Reports section of the navigation bar. You can select and run the report from either place without needing to provide any configuration details. In addition, when you save reports, you can set them up to run automatically, with the results emailed to people in your organization.
To open the Report Settings dialog box either save a report from the Report Options dialog box or from the Reports section of the navigation bar choose Manage reports screen > Saved & Scheduled tab > Options button > "Save & Schedule Options" option.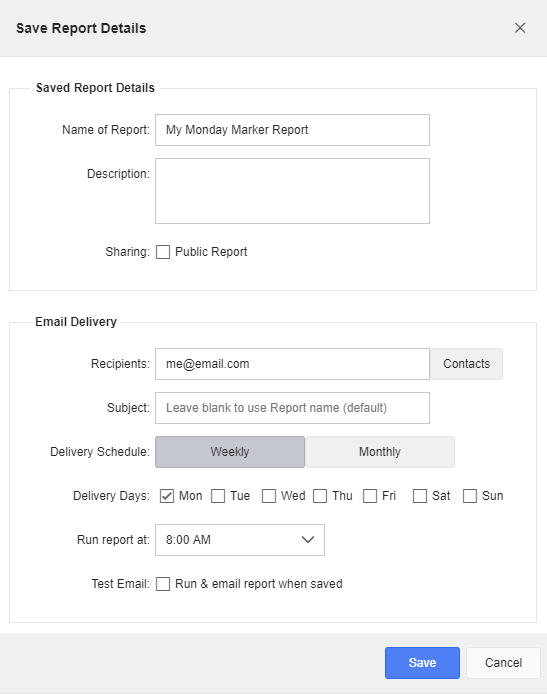 | | |
| --- | --- |
| Name of Report | Specify a name for the report. Use this name to select the report later if you want to run it or make any changes. |
| Description | Optionally, provide a description for the report. |
| Sharing | If selected, the report is automatically available to anyone with privileges to run or edit reports. If cleared, only you can run, edit, or delete the report. |
| Recipients | If you want the report to be run automatically, enter the email addresses of everyone who should receive a copy of the report when it is run. Separate names with semicolons (";"). You can click Contacts to add email addresses that are saved for other account users. |
| Subject | Optionally, enter a subject to appear on emails that contain automatically run reports. If you do not specify a subject line, the email uses the report name as a subject line. |
| Subscribe for (months) | Select how long the subscription to the report lasts. You can choose the default (6 generations of the report), or specify the number of times the report is run before it expires. When you choose the default, the email that is sent with the report includes a link that the recipient can click to renew the subscription (from the time of the email, not from the last of the current subscription). If you select a number of times until the report expires, the email does not include a link for renewing the subscription. The report email also includes an unsubscribe link. |
| Delivery Schedule | Indicate when the report is scheduled to run; for example, on certain days every week or certain days every month. |
| Delivery Days | Specify the days of the week or month that the report should be run and sent out. |
| Run report at | Select a time of day when the report is automatically run and sent out. |
| Test Email | Select the Run & email report when saved check box to cause an unscheduled report to be run and sent out when you first save the report. |
Click Save to save the report or Cancel to exit without saving the report.