The Settings dialog box is used to configure many areas of the fleet management software to meet your individual requirements. To open the Settings dialog box, click your account name in the upper right corner of the screen, then click Settings: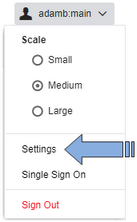 Note
Many subscriptions include only a small subset of the options described in this section. Some subscriptions might also include additional pages such as "Jobs and Routes" and "Maintenance". These are used for features included as part of other products such as Maintenance Connect, Verizon Connect® Response™, Verizon Connect® Dispatch™, and Verizon Connect® WorkPlan™. See the separate help systems provided for these products for more information.
The Settings dialog box contains several tabs and pages, drawn from the following:
Note
If you make any changes in the Settings dialog box without immediately saving, an asterisk * is displayed next to the title of the dialog box, indicating that you have unsaved changes.