The Vehicles list provides a powerful and convenient way to view, sort, and find information about vehicles (and other assets) quickly and efficiently. Verizon Connect® Response™ adds several columns to the available columns of information you can view in this list:

The information that appears in the list is controlled by the Vehicle List tab on the Settings dialog box. This dialog box appears when clicking the Columns menu option in any title bar menu (viewed by clicking the far right end of any column title), or by clicking the Column Setting button on the Vehicles list menu: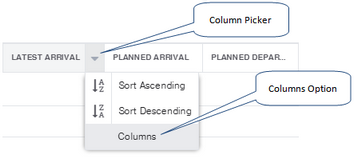 Or:

Click the Vehicle List tab to specify the columns that will be shown in the Jobs list: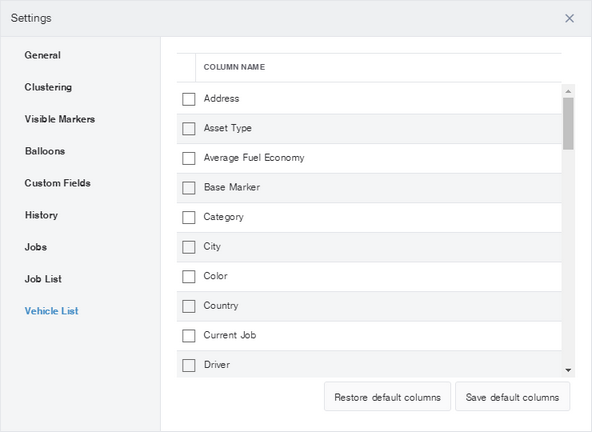 Response add the following columns:
Current Job: the job the vehicle is currently servicing or, if the vehicle is not at a job site, the next job on the driver's schedule.

Next Job: the job on the driver's schedule that follows the current job.

Jobs Completed: the number of jobs the vehicle has completed since leaving the base depot.

Jobs Remaining: the number of uncompleted jobs the driver is scheduled to complete before returning to the base depot.

Job ETA: the time the driver is planned to arrive at the current job. This option is only available if your account includes a subscription to Verizon Connect ETA.

Job Planned Arrival Time: the planned arrival time of the current job.

Job Status: the status of the current job.

Job Type: the type of the current job.

Jobs: a time line showing the status of jobs that are scheduled for the vehicle. This is a mini version of the Jobs Gantt chart for the vehicle, without any scale markings or hover-over for job details.

Route: The name of the route this vehicle is assigned to. Click the route name to view or edit the route, display all jobs on the route, or to view the the route's history.
These job details are given for incomplete routes that are scheduled to occur within 4 hours of the current time.
Note
For a vehicle to be used with Dynamic Response Suite, it must have an assigned driver.