The Add Job dialog box lets you define new jobs and, optionally, add them to your drivers' schedules.
To view this dialog box:
Click the Add Job button on the jobs list.

Click the Create Job link that appears in the balloon when you use the Select Point control on the map or when you do a location search.

Click the Create Job menu item in the pop-up menu for a location.

Right-click a vehicle icon on the map and select the Create a job here link.
Note
If your account includes a subscription to Verizon Connect® Dispatch™, and the territory containing the vehicle has been configured to use it (by opening Jobs & Routes > Territories, clicking the territory name, selecting the Properties tab and then checking the 'Use new Response' box), then Dispatch opens, and the Create Job dialog box opens automatically, not the Add Job dialog box.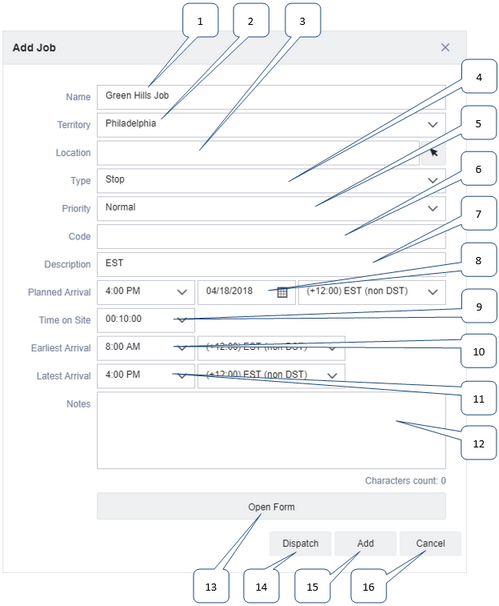 | | |
| --- | --- |
| 1: | Give the job a descriptive name. |
| 2: | Indicate the territory that the job belongs to. |
| 3: | Indicate where the job should take place. You can click the point tool or enter the name of a marker or address in the edit region and select the correct value from the list that pops up. |
| 4: | Indicate the type of job by selecting one of your defined job types from the drop-down list. |
| 5: | Specify the priority of the job by selecting a value from the drop-down list. |
| 6: | Specify the job code. This is a free form field. |
| 7: | Enter a brief description of the job in the edit control. |
| 8: | Indicate the time and date when you expect the driver to arrive at the job site (if known), and whether the time of the job will occur during Daylight Savings Time (DST) or not (standard, or non-DST). The correct daylight savings time for your time zone is shown in the interface and should not typically need to be changed, but this value can be manually overridden if needed (if, for example, the possible start and end times of the job occur in different daylight saving times). |
| 9: | Indicate the amount of time you expect the driver to spend at the job site when performing this job. |
| 10: | Indicate the earliest time that the driver can arrive at the job site, and whether this time occurs during Daylight Savings Time (DST) or not (standard, or non-DST). The correct daylight savings time for your time zone is shown in the interface and should not typically need to be changed, but this value can be manually overridden if needed (if, for example, the possible start and end times of the job occur in different daylight saving times). |
| 11: | Indicate the latest possible time that the driver can arrive at the job site, and whether this time occurs during Daylight Savings Time (DST) or not (standard, or non-DST). The correct daylight savings time for your time zone is shown in the interface and should not typically need to be changed, but this value can be manually overridden if needed (if, for example, the possible start and end times of the job occur in different daylight saving times). |
| 12: | Optionally, enter any notes for the driver who is performing this job. The number of characters you have added appears below the edit box, which is useful when creating jobs to devices that support a limited number of characters. |
| 13: | Click Open Form to open any forms associated with the job. From this dialog you can complete a form and save the values entered, or cancel and close the form. This option is not available for all accounts. |
| 14: | Click the Dispatch button to save the job and dispatch it to a driver. |
| 15: | Click the Add button to save the job and add it to the jobs list. |
| 16: | Click the Cancel button to close the dialog without saving your changes. |